Latest news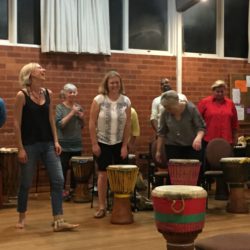 Drumming Classes by Drum Effect have 10-week courses for beginners to advance. If you would like to know more, please give our office a call on 6295 9470 or visit Drum Effect's website. Video
On Friday, 23rd February we held another Community Twilight Fete to show everyone what happens in this space. There was gentle exercise groups, choir performances, dance classes, jumping castles, face painting, garden tours and historic talks and delicious food to eat. Thank you to everyone involved.
Previous
Next
Community Programs
Health & Well-Being
Cooking Circles Tai Chi for Everyone Action Tae Kwon-DoBoot Camps Hatha Flow Yoga with Monica YMCA Exercise Al-Anon Family Groups Financial Counselling Multicultural Counselling Clinic Canberra Recovery Group Dru Yoga with Karen Pathways Moving Archetypes
Children & Families
Kingston Kids Playgroup Kingston Babies Parent Social GroupYouth GroupWomens & Mens Fellowship GroupWomens & Mens Book ClubWomens Bible StudyDad's & Kids Camp SMAD Camp
Music & Languages
French Language Lessons Toastmasters Drum Effect (African Drumming)Somatic DancePalliative Care SingersChurch Music GroupPrayer, Song & Story: Christianity Spirituality GroupEarthly Delights Historic Dance Society
Creative
Kingston Organic Community Garden Crafty FingersStamp MarketsClothes Swap Markets
Our Facilities
Rooms are available to hire for regular meetings or once-off events. Click the images for pricing and details.
Go Back